WHY WORK FOR EXCEL TRUCK GROUP
The Excel Truck Group supports eight very distinct markets across Virginia, North and South Carolina as a Truck Dealership providing products and services to the commercial transportation industry. We are the supplier of choice for new and used truck sales, service, parts and lease or financing support.  As the leading Freightliner dealership group, the foundation of our success is our "People". We have the best People, Team and Vendors in the industry.
We are growing and are committed to recruiting the best people to join our team.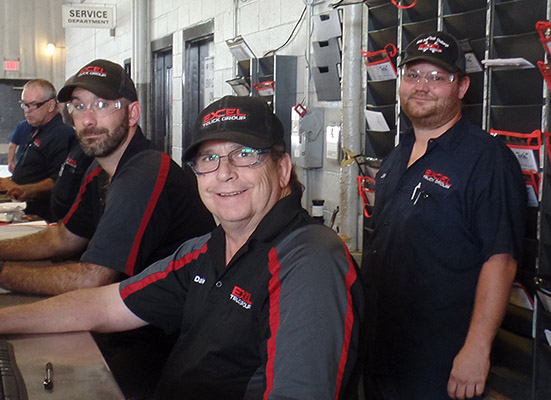 OUR BELIEF
Great companies are built with great people on a foundation of trust and respect in an environment where open honest communication is encouraged, and ideas are shared freely. Our employees have expertise and a passion to do what it takes to ensure our customers success regardless of the size or complexity of their fleet needs. Our employees grow in a safe and positive work environment where performance is acknowledged and rewarded. Our people are treated fairly and with the same concern, respect, and caring attitude within the Company that they are expected to share with our customers, the suppliers we represent and the communities we serve.
More reasons to join our Excel Team…
Great Employee Benefits

Paid Time Off

Company Sponsored 401k Match

Paid Training

Flexible Schedules

Team work environment

Family Owned since 1981

We are Family committed. Company sponsored annual Family events to include Bush Gardens, Carowinds, Kings Dominion and Smith Mountain Lake.
Our team is committed to offer the best Customer Experience in our industry!
Click the video below to see more
Join the Excel Truck Group Team
If you are looking for a great career there is no better place than the Excel Truck Group. We offer fulfilling career opportunities in sales, service, parts, and operations. If you are a Diesel Technician, a Sales person or a Parts and Service professional we would love to hear from you. We are always interested in connecting with potential new team members. Whether you are a recent graduate of a diesel tech program, a seasoned sales representative, a master mechanic, or an experienced parts person we would love to hear from you!
Here's what our team members have to say....
"I have worked other places, and there is no place like Excel. They support our technicians, and take the time to recognize people who are hard-working and deserving. Frank and Russ know everyone by name, and the whole team is supportive both inside and outside of work, pitching in to help when someone needs it. It has a great family atmosphere, and people know and care what is going on in each other's lives. Excel also provides lots of training and good benefits. I like coming to work each day, and that makes all the difference."
"I have trained and worked in the warehouse, as a driver and now selling Parts. You can make this a career at Excel and grow with the company."
"Excel is a family oriented company and you don't see that very often anymore."
"We are a team at Excel. Our commitment to our customers is the best. Building on each other's strengths."
"I just graduated from ATI – Diesel Technician in the spring, and today I am working with my mentor (experienced technician) to improve my knowledge and ability. Excel developed me a training path to help me meet goals and objectives."
"I have been working here for over 50 years, and it is the family atmosphere and connection with my coworkers and customers that keeps me here. A lot of things have changed, from the scale of the business to the technology in the industry, but Excel has always had this positive culture of genuinely caring about each other and the customers, and management shows its cares by taking care of the employees."
"What I like about Excel is the atmosphere – it isn't just a place to work, its family! The culture from the top down is based on strong relationships and having each other's backs. Management supports us and works with us, and departments work together as a unit. The customers are nice to deal with as well!"